Stroke Rehabilitation
Stroke is one of the leading causes of disability in India. Given the epidemic burden and complexity of the requirements, we have crafted a comprehensive multidisciplinary rehabilitation care that will fit your personalised rehabilitation care requirements.
Primary Objectives of Stroke Rehabilitation
Is to restore lost strength, balance, speech or cognitive functions

Functional Independence with task-specific training

Prevent complications and recurrences

Improved overall quality of life and emotional wellbeing
Comprehensive Rehabilitation in an inpatient facility has a significant role in ensuring best possible outcomes and improving overall quality of life after stroke rehabilitation.
Key Components
Key Components of Stroke Recovery Program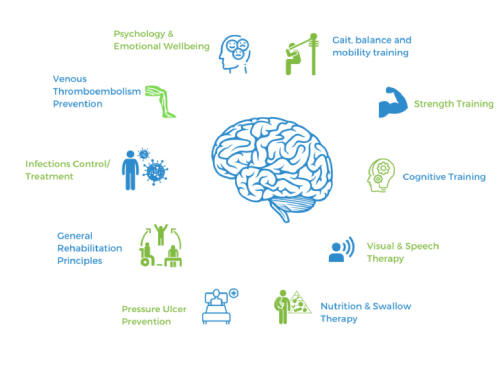 Multi-Disciplinary Approach
24*7 medical monitoring by doctors, skilled nursing care by qualified nurse, personalised physiotherapy plan by experienced physiotherapists, activity of daily life preparation by occupational therapist, systematic evaluation and therapy by speech and swallow therapist, prompt respiratory therapy interventions by respiratory therapist, healthy and nutritious diet by dietician and ensuring emotional wellbeing by psychologist.
Simple Steps - Stroke's Smooth Recovery:
The Primary steps of rehabilitation care which needs to be initiated within the first 90 days of Golden Period are,
Base assessment & risk profiling– The recovery prognosis of a patient should be made as per the type, severity and location of stroke. Considering other co-morbidities including High blood pressure, Diabetes, Hypercholesterolemia and preventable risk factors like falls, aspiration, infections etc, a base status is established by respective multidisciplinary department leads that include doctors, nurses, physiotherapists, speech therapists, occupational therapists, respiratory therapist, dietician and psychologist

Goal setting– Once multidisciplinary concludes on baseline evaluation, a personalized care plan with goal settings is presented and agreed with the family to set realistic and mutually agreeable goals for enhanced recovery.

Regular monitoring and re-evaluation– Performance indicators shall be rigorously monitored to ensure the path for recovery and a decision to continue/ modify the care plan as per progress. Effects of stroke are different in each individual, hence each care plan is customized as per the individual's condition for an efficient and accelerated recuperation.

Empowerment– By the time we discharge the individual and family is prepared to handle the requirements at home. Post discharge care will ensure care continuum as per the requirement
1. Are strokes hereditary?
Yes, it can be. Some causes of stroke have a genetic component.  Medical conditions such as high blood pressure, diabetes and heart disease that increase stroke risk can run in families.
2. Can stroke patients recover fully?
Yes. Some people recover fully, but others have long-term or lifelong disabilities.
3. How long does it take to recover from a stroke?
Recovery time after a stroke is different for each individual. It can take weeks, months, or even years depending on the severity and type of stroke.
4. Can stress cause a stroke?
Yes. Stress apparently increases the chances of stroke or TIA (Transient Ischemic Attack) risk by 60 percent. Stress can cause the heart to work harder, increase blood pressure, and increase sugar and fat levels in the blood. These things, in turn, can increase the risk of clots forming and travelling to the heart or brain, causing a heart attack or stroke.
5. Can young people have strokes?
Yes. While stroke risk does indeed go up as people get older, stroke risk has increased in the younger population. Many experts say the obesity epidemic is to blame for an increase in heart disease and stroke among people in their 20s and 30s.
6. How can HCAH SuVitas help stroke patients?
HCAH SuVitas,a leader in transition care and rehab, provides personalized care plan by a multidisciplinary team in a home like environment. Skilled nursing care, 24x 7 medical supervision, experienced and specialized therapy team, therapeutic diets as advised by dietitian, emotional wellness addresses by clinical psychologist. All these contribute to early and effective recovery of stroke patients.
7. What are the therapies provided by HCAH SuVitas for smoother and faster stroke recovery?
Specialized physical therapy, Occupational therapy, Respiratory therapy, Speech and swallow therapy, emotional wellness, therapeutic diet, skilled nursing care and medical supervision.
8. Why should I opt for HCAH SuVitas for my stroke recovery?
HCAH SuVitas is the pioneer in transition care and rehab services with a pedigree of more than 3000 recovery stories and one lac+ therapy sessions.
9. Whom at HCAH SuVitas should I be consulting for stroke?
You can consult the Therapy Head or Center Head Medical Officer.
10. When should I approach HCAH SuVitas if I have had a stroke?
You can approach HCAH SuVitas while undergoing treatment in the hospital so that decision on rehab can be taken along with primary consultant and family. Early decision helps in smooth transition of care from hospital to HCAH SuVitas Rehabilitation center
11. How long should I be hospitalized at HCAH SuVitas for rehab after a stroke?
The duration can vary from weeks to months. The recovery from stroke varies from person to person depending upon many factors such as general health, associated diseases, age, type and severity of stroke, time taken for initiating stroke pathway and management etc.
12. What are the benefits of stroke rehabilitation at HCAH SuVitas?
Early, Effective and Empowered rehabilitation services
Personalized care plan
Experienced multidisciplinary therapy team.
Infection control and quality of care being our priority.
Involving family in the careplan.
State-of-art facility.
Home like environment
Why HCAH Suvitas - Stroke Recovery Care?
Powerful Personalized Recovery Stories