HCAH Suvitas Trauma Care is a multidisciplinary team-driven comprehensive rehabilitation program for individuals recovering from traumatic brain injury. Whatever be the cause,a fall, bad road traffic accident or sports injury, quality rehabilitation is a critical component for recovery to normal life.
Primary Objectives of Stroke Rehabilitation
"What doesn't kill you can only make you stronger." Brain injury doesn't mean the end of a life. While a complete treatment for brain injury does not have a predictable end point in all cases, early initiation of specialized rehabilitation can yield significant improvements.
The Need for Rehabilitation is:
Is to improve physical, functional, and cognitive disabilities.

To prevent short-term and long-term complications that may arise after injury

To enhance emotional wellbeing and overall quality of life for active daily living.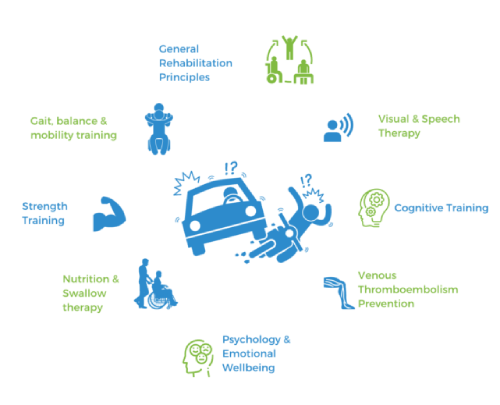 Essential Components Of Brain Injury Rehabilitation
Where Recovery Happens is key for successful brain injury rehabilitation program. Environment plays a crucial role in promoting neurological recovery. Our multidisciplinary rehabilitation team will have a structured approach to recovery from brain injury in a well-planned environment that is equipped with appropriate equipment and tools along with well-trained rehab therapists. Functional recovery is an important component of brain injury rehabilitation program, that can achieved by trained therapists in an ideal rehabilitation settings. During the recovery phase, our expert rehabilitation specialists reinforce paradigms like cognitive stimuli which encourage adaptive, functional transfers and pro social feedback to the brain.
Systematic Approach By Experienced Multidisciplinary Rehabiltation Team
Early and Intensive rehabilitation interventions shall be given to the patient at the intensive care unit, as per the requirement. As soon as the patient starts showing signs of medical stability, they  can be transferred to a specialized inpatient rehabilitation setting. Individualized rehabilitation programmes are designed in accordance with the baseline evaluation by multidisciplinary rehabilitation  and a personalized recovery care plan is implemented as per capabilities of the individual and desired goals. The programme is constantly modified to adapt to the patient's improving status. Our expert rehabilitation program for brain injury is constantly monitored and evaluated by a multidisciplinary team of specialists to ensure overall recovery of the patient. Most importantly, family member or primary care giver is always educated to play an active role in recovery plan.
Why HCAH Suvitas ?
Powerful Personalized Recovery Stories