Knee Pain Relief after Surgery: How Rehabilitation Helps
Knee replacement surgeries resurface a damaged knee. However, quite often a patient is not fully relieved of the pain even after the surgery. Arthroscopic surgeries, the minimally invasive alternative procedures, could also leave one in pain due to several reasons. Recognizing post operative symptoms early and initiating orthopedic rehabilitation care are essential in order to gain the full benefit of a knee replacement procedure.
Orthopedic rehabilitation is the specialized program designed for individuals suffering from musculoskeletal ailments to improve strength, endurance, flexibility and restore mobility & independence. Some common conditions which require orthopedic rehabilitation include hip or knee replacement surgeries, fractures, arthritis, sports injuries, degenerative joint diseases among others.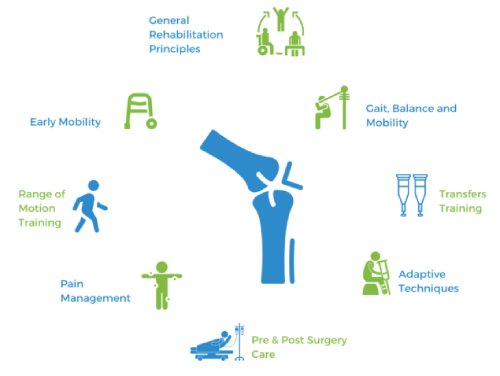 What causes Knee Pain after Surgery?
Post-operative pain is commonly reported among those who had a knee replacement procedure. However, some people may face more struggles during the recovery period due to certain co-morbidities. Few reasons why your knees may hurt after the surgery are
Inadequate rehabilitation

Infection

Complications like spontaneous Osteonecrosis

Joint Arthritis

Inflammation and swelling
While applying ice and anti-inflammatory medications could help in reducing inflammations, nothing like a systematic rehabilitation programme can help in keeping a check on the co-morbidities thus providing complete pain relief and empowered recovery.
Pre- Rehabilitation for Knee Pain Relief
In order to have a minimally painful experience, doctors and therapists recommend undergoing a pre-rehabilitation programme before undergoing the surgery. Patients who followed an active lifestyle and performed pre-rehabilitation tactics including performing of exercises for up to 8 weeks until the surgery, recover faster. Therapeutic interventions and highly targeted exercises in the weeks leading up to surgery, strengthen the muscles around the joint, enhance blood circulation, reduce fatigue, swelling and risk of blood clots and improve the overall recovery. This is a way of preparing the knee joint for surgery.
Orthopedic Rehabilitation for Knee Pain Relief & Empowered Recovery
Orthopedic injuries, surgeries and illnesses could interfere with the function of the musculoskeletal system (comprising of muscles, bones, cartilage, joints etc) of the body thereby impairing movement and locomotion. For those who had very active lifestyles will find it extremely difficult to adjust with this condition and will require specialized care to easily get back to their normal lives. Orthopedic rehabilitation is thus recommended for early, effective and empowered care.
Key Components of Orthopedic Rehabilitation programmes
Base assessment– An analysis is done to understand the existing condition, chart the risk profiling and come to a predicting prognosis

Goal setting-–Confirm realistic rehabilitation objectives by reaching mutually agreeable goals, family could also closely interact with the physician to drive the care plan

Therapy– A multidisciplinary approach should be incorporated to the rehabilitation procedure by involving different specialities in therapy including physiotherapy, occupational therapy, skilled nursing, medical nutrition, emotional coaching etc.

Knee Pain Relief– Design and implement a patient-centric care plan involving pain management techniques to ensure the patient is completely at ease throughout the rehabilitation procedure

Assistive Devices– The recovering patient will need the support of assistive devices to aid in the accelerated restoration of movement, for safety and improvement of independence and performance. Orthosis and prosthesis are two such rehabilitation equipment used to support the limb or the spine to prevent or assist relative movement

Activities of Daily Life (ADLs) management– Being able to perform the basic day to day activities independently, goes a long way in emotionally supporting the overall recovery of the patient. Therefore, sufficient emphasis should be given to training fundamental skills typically needed to manage activities like personal grooming, toileting, ambulating and eating

Preventions (education and risk factor management)- The overall care plan needs to be constantly monitored for continuous evaluation of performance indicators and adjusting the programme as per the individual requirements and conditions

Multidisciplinary coordination (amongst the rehab team)- Since a 360 degree holistic recovery can't be achieved with individual doctors working in silos, a multidisciplinary team is desirable in driving the rehabilitation procedure for a complete recovery

Empowerment (motivation & sustenance)- The impairment of functional abilities can significantly inflict trauma in an individual. Therefore the active involvement of the family members and an emotional counsellor will help in providing the required support for the patient to have an accelerated and empowered recovery
A detailed and consistent consultation with an expert panel of doctors is imperative in knee pain relief and also in the holistic recovery of an individual. Therefore, at HCAH SuVitas, we loop in the expertise and guidance of orthopaedic surgeons, physiotherapists, occupational therapists, skilled nurses, dieticians, prosthetists, orthotists and psychologists.
Rehabilitation after knee surgery can ensure pain relief, get you back to normal life at the earliest.
Ten Reasons Why One Should Opt for Rehabilitation After Hip or Knee Replacement Surgeries
Rehabilitation service providers have trained and expert therapists to ensure proactive and quality care for all the patients that have undergone hip or knee replacement surgeries. Family members are often unprepared to give the care that is needed by the patient.

People who have undergone hip or knee replacement surgery must initiate weight bearing in a systematic way during the recuperating period. This can be guided by therapists in a simplified way.

Post Hip or Knee replacement surgeries, there is a chance of postoperative complications. Hence the patient must be under constant supervision to check for fluid retention, inflammation, reddening or skin irritation near the region of the surgery.

After Hip or knee replacement surgery, significant therapy is needed to ease the pain of the surgery itself as well as to train the muscles of the leg that bear the weight. Often muscles can stiffen due to the trauma of the surgery and must be conditioned back to normal life.

After the surgery, simple activities like standing must be re-learnt by the body. This might require the assistance of mechanical aids like walkers or crutches, which typically is facilitated by qualified physiotherapist.

Any joint replacement surgery must be followed by a range of motion therapy that emphasizes the flexibility of the newly reconstructed joint. Flexibility takes time to return. The angle to which the hip or knee can be bent is increased under the supervision of a trained physiotherapist.

Simple constrained exercises like the use of traction must be done to rebuild muscle tone and strength. This, however, must be done under constant supervision of a trained physiotherapist.

After completion of the surgery, the patient must be retrained in the skills to climb stairs, move on-ramps, dress or use the toilet. These activities do require therapy and assistance in the beginning before self-sufficiency is achieved.

Regaining proper technique is as important as regaining the ability to walk. Starting to walk improperly after surgery can have across-the-board outcomes in the future. It is imperative to assume proper gait when you learn to walk.

A special diet is often necessary for the optimum recovery following a hip or knee replacement. A trained dietitian at a rehabilitation facility teaches the patients about the importance of healthy and nutritious foods.