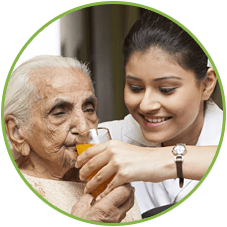 SPEECH-SWALLOW THERAPY
Our speech therapists design individualized treatment plans to help patients recover from speech and swallowing issues arising due to illness or injury.Many patients that are recovering from an illness or injury suffer from communication problems including speaking, understanding or hearing. Our Speech Therapists design individualized treatment plans to effectively address all these problems in a very methodical manner. We can help with patients who:
Cannot speak/ cannot speak clearly
Have swallowing difficulties
Face trouble with reading, writing/completing computations
Cannot attend to tasks, remember information, concentrate, reason/ exercise good judgment.
The overall focus is on written & verbal comprehension skills, and improvement of oral muscle strength for safe eating,drinking and proper speech.