My Experience at SuVitas
Geetika Kumar
Grade 12th student, The International School Bangalore
When a friend's grandfather had a sudden stroke, the family found itself in a very difficult situation. After the treatment at the hospital was finished, they had the daunting task of caring at home for a patient who was partially paralysed, had speech impairment and had memory loss. They soon found that they were ill equipped to provide the extensive care required, which included physiotherapy, psychological therapy and round the clock monitoring. In addition to the care aspects, they also had to cope with the emotional trauma of the patient not recognising them. They found respite from these difficulties when they came across SuVitas, a post-operative transition care home in Bengaluru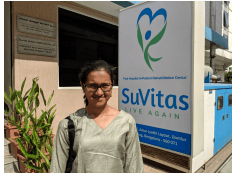 Having a keen interest in healthcare, I was curious to know more about the place and the type of healthcare available there, so I approached SuVitas for an internship. Mr Priyesh and Dr Vijay were kind enough to offer me this opportunity and placed me under the mentorship of the psychologist.
During the six months that I spent at the facility, I had the opportunity to shadow doctors and therapists in different specialities, including physiotherapy, respiratory therapy, psychology and nutrition. While shadowing the doctors, I was fascinated to see the teamwork involved in coordinating the various therapies required for all round recovery of each resident. I realised how intricately connected the various parts of the human body are and how holistic treatment is required to treat any problem.
In addition to physical therapy, mental wellbeing is also equally important for the residents as in many cases, recovery can be slow and there is no definite end-point in sight. I helped to organise the weekly activity session in which all the residents get together to play games, paint and watch motivational videos to keep their spirits up during their recovery. These fun activities also help to alleviate stress and frustration that many residents experience during their physical therapy. Not only does the care benefit the residents, it is also satisfying for the doctors. The respiratory therapist mentioned that she used to work in an ER in a hospital, and although there she had a large impact on patients' lives, she could never see the patients to full recovery. She said that at SuVitas she gets sufficient medical challenges while also getting to see the residents go home almost fully recovered, so she finds it more fulfilling to work in a transition care home environment than at a hospital.
However, the doctors' jobs are not easy; they have to be extremely patient and empathetic while treating the residents. One day, a resident was refusing to eat his food and return to his room, so the doctor had to explain repeatedly that his medicine was mixed into the food and that he had to eat so that he would recover. Finally, after half an hour of the doctor patiently repeating her explanation, the resident understood and ate his food and medicine.
Recently my grandmother went through a knee replacement surgery. To ensure that she recovered fully we had to make sure that, amongst other aspects of her treatment, she did her routine of physiotherapy properly and had her medicines on time. Although we were lucky enough to be able to stay with her and help her recover, I was reminded how a transition care home like SuVitas could help facilitate the recovery of patients in her situation by bringing together all the aspects of post operative rehabilitation under one roof.